生物全降解一次性餐盒是一种比较先进的环保产品。
The biodegradable disposable lunch box is a relatively advanced environmental protection product.
它以淀粉为主要原料,加入一年生长期植物纤维粉和特殊的添加剂,经过化学和物理方法处理制成生物全降解快餐盒。由于淀粉是一种可生物降解天然高分子,在微生物的作用下分解为葡萄糖,最后分解为水和二氧化碳。
It uses starch as the main raw material, adds annual plant fiber powder and special additives, and undergoes chemical and physical treatment to make a biodegradable snack box. Because starch is a biodegradable natural polymer, it is decomposed into glucose under the action of microorganisms, and finally into water and carbon dioxide.
此外,与其共混的材料也是全降解材料,因此可以说它对环境没有任何影响。
In addition, the material blended with it is also a fully degradable material, so it can be said that it has no impact on the environment.
生产原料淀粉的主要来源,可以是玉米、土豆、红薯、木薯等一年生长期植物。
The main source of raw material starch production can be corn, potatoes, sweet potatoes, cassava and other annual plants.
自然,生物全降解生产原料大部分是粮食作物,对环境无任何污染可完全代替泡沫餐盒。
Naturally, most of the raw materials for biodegradable production are food crops, which can completely replace the foam lunch box without any pollution to the environment.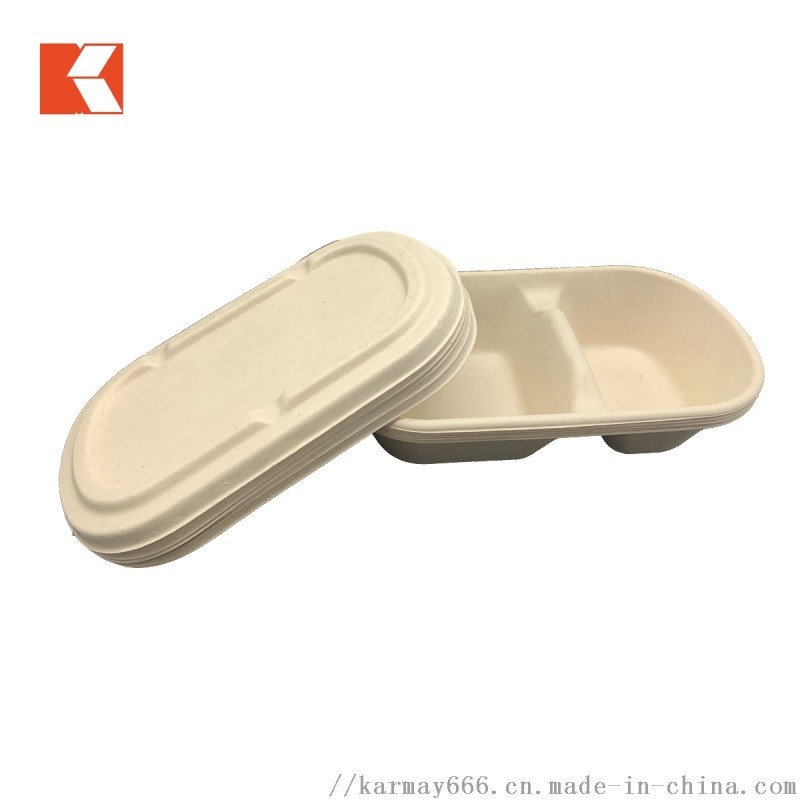 嘉美公司生产的纸浆模塑环保餐具,以一年生植物纤维为原料,经科学技术处理,施加食品级防水防油添加剂,使产品具有以下优良特性:
The environmentally friendly pulp molded tableware produced by Karmay Company uses annual plant fibers as raw materials, processed by science and technology, and applied food-grade waterproof and oil-repellent additives, so that the product has the following excellent characteristics:
1、 环保卫生、安全无害。
1. Environmental protection, hygiene, safety and harmless.
2、可抗120℃热油、抗100℃热水,不变形不渗漏。
2. It can resist 120℃ hot oil and 100℃ hot water, without deformation and leakage.
3、适合微波炉烘烤。
3. Suitable for microwave oven baking.
4、有回收价值,再生造纸,循环利用,保护资源。
4. Have recycling value, recycle paper, recycle and protect resources.
5、变异后自然降解泥化为有机肥料,还原为二氧化碳与水,回归大自然。
5. After the mutation, it will naturally degrade and sludge into organic fertilizer, reduce it to carbon dioxide and water, and return to nature.
嘉美塑料制品(珠海)有限公司已通过食品安全管理体系(HACCP)认证、ISO质量及环境认证。
Karmay Plastic Products (Zhuhai) Co.Ltd has passed the food safety management system ( HACCP) certification, ISO quality and environmental certification.
更多信息请咨询http://www.karmay.com.cn/