塑料制品具有成本低、可塑性强、重量轻、耐冲击不易损坏、携带方便等优点,在制造各种食品容(器)具中应用广泛, 常见的塑料包装材质有以下几种:
Plastic products have the advantages of low cost, strong plasticity, light weight, impact resistance, easy to damage, and easy to carry. They are widely used in the manufacture of various food containers (containers). Common plastic packaging materials are as follows:
1、
PET塑料常用于制作塑料盒、饮料瓶等制品,人们常购买的透明水果盒、蛋糕盒都是PET片材吸塑制成的包装制品,属于食品级安全塑料材质。
1. PET plastic is often used to make plastic boxes, beverage bottles and other products. The transparent fruit boxes and cake boxes that people often buy are packaging products made of PET sheet blister, which are food-grade safe plastic materials.
2、HDPE塑料俗称高密度聚乙烯,具有较高的使用温度、硬度、力学强度和耐化学药品性较好。属于无毒安全材质,常用于食品用塑内料容器的制作。
2. HDPE plastic is commonly known as high-density polyethylene, which has a high temperature, hardness, mechanical strength and good chemical resistance. It is a non-toxic and safe material, and is often used in the production of plastic internal material containers for food.
3、LDPE塑料俗称低密度聚乙烯,用它制成的产品具有无味、无臭、无毒、表面无光泽的特点。常用于食品用塑料件,食品包装用复合膜,食品保鲜膜、医药、药品塑料包装等。
3. LDPE plastic is commonly known as low-density polyethylene, and the products made with it have the characteristics of tasteless, odorless, non-toxic, and matte surface. Commonly used in plastic parts for food, composite film for food packaging, food cling film, medicine, plastic packaging for medicine, etc.
4、PS常用于制作碗装泡面盒、快餐盒、一次性食品包装盒等,具有很好的耐寒性能。食品级PS片材常用于酸奶杯等容器。
4. PS is often used to make bowl-shaped instant noodle boxes, fast food boxes, disposable food packaging boxes, etc., and has good cold resistance. Food grade PS sheets are commonly used in containers such as yogurt cups.
5、PC塑料可用于制作运动水杯水壶、瓶子等,广泛容应用于塑料容器制作,属安全材质。
5. PC plastic can be used to make sports water bottles, bottles, etc. It is widely used in the production of plastic containers and is a safe material.
6、PP塑料是常见的塑料之一,可制成任何食品用塑料包装,如食品专用塑料袋、食品塑料盒、食品用吸管等,安全无毒并且耐低温、耐高温性能好。PP是唯一可以放进微波炉加热的塑料,并有高强度耐折性能。食品级PP片材常用与速冻水饺、微波加热食品包装。
6. PP plastic is one of the common plastics. It can be made into any plastic packaging for food, such as food special plastic bags, food plastic boxes, food straws, etc. It is safe and non-toxic and has good low temperature resistance and high temperature resistance. PP is the only plastic that can be placed in a microwave oven for heating, and has high strength and folding resistance. Food grade PP sheets are commonly used in quick-frozen dumplings and microwave-heated food packaging.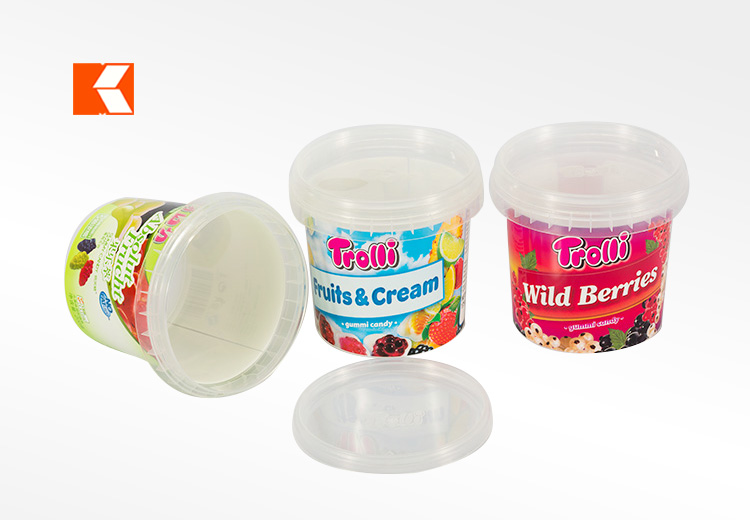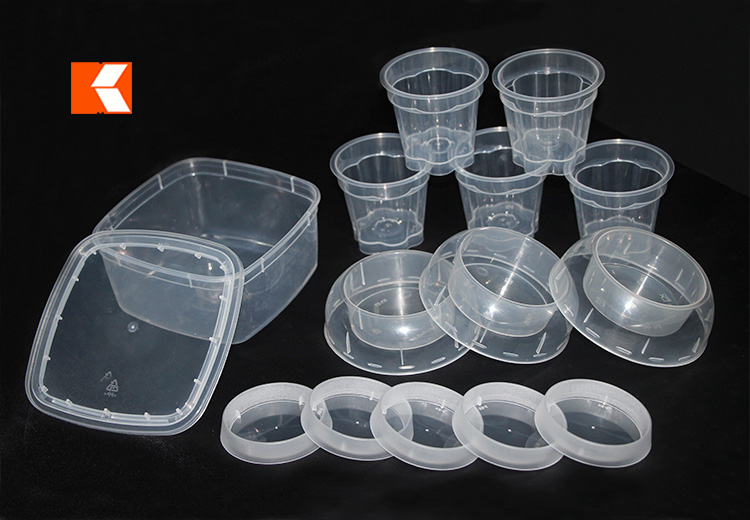 嘉美公司生产的食品级透明
塑料包装容器
均采用PP材质,安全无毒,而薄壁塑料产品重量较轻,具有一定的成本优势,嘉美生产的塑料产品已广泛应用于快速消费品及休闲食品包装上。
The food-grade transparent plastic packaging containers produced by Karmay Company are made of PP material, which is safe and non-toxic, and the thin-walled plastic products are lighter in weight and have certain cost advantages. The products produced by Karmay have been widely used in fast-moving consumer goods and snack food packaging.